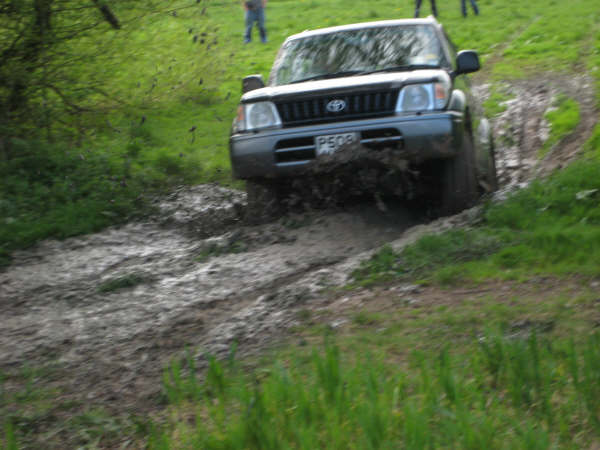 We settled on a 'practical' as opposed to 'romantic' car.  Since we want to see more of each country than just the local mechanics workshops, and to have a (relatively) comfortable ride, a Land Cruiser and not an old Morris Minor or a MG spider seemed a good choice.  
Needless to say, we were delighted to discover, as we found out more about our particular purchase, coupled with the Land Cruiser pedigree and its renowned aptitude for this kind of trip, just how fine a choice we had made.  Phew!
So, for all those mechanics among you, here are some stats:
•    Toyota Land Cruiser Colorado, 'P' reg ('90' series)
•    Japanese import
•    3.0 Turbo-Diesel
•    Automatic (although with manual lower gears and low ratio)
•    Central and rear differential locks (awesome for getting you out of deep mud!)
•    360 mile range on a single fuel tank (circa 28mpg)
To kit it out for this journey, we've added on:
•    Goodrich All Terrain tyres
•    Old Man Emu mid range shock absorbers and suspension – the bright yellow mean ones!
•    Safari snorkel (more for dust protection than for driving through water)
•    African Outback roof-rack
•    Roof box
•    Optima auxilliary battery unit (for running lighting, compressors, etc and for emergencies)
•    Undercarriage anti-bash plates
•    Built in storage system in the back
Many people do these sorts of trips in vehicles that are far less prepared than ours will be, and needless to say most of them make it.  But that said, our aim is not to prove that you can drive to Mongolia in a clapped out Mini - those who want to prove that, fine…  Our aim is to enjoy our trip as much as possible, without having to worry about the car.
Principle extra stuff that we'll be taking:
•    Attachable car awning – our standing/ changing/ wind and rainproof area away from peeping eyes and light fingers (especially important in India and China!)
•    2 x spare tyres
•    2 x 20 litre diesel jerry cans
•    Über comfy sleeping mats (Thermarest luxury range – definitely worth spending the money on)
•    Warm 4-season sleeping bags. Mongolia in February – need we say more?!
•    Coleman duel fuel 2-ring camping stove – important that this runs on petrol, which is readily available, rather than camping gas in pretty little bottles, which is not.
Our car before its metamorphosis into a truck: